No Drugs, No Injections, No Surgery
Shoulder Pain Doctor
Tired of Persistent Shoulder Pain?
Get the long-lasting pain relief you need.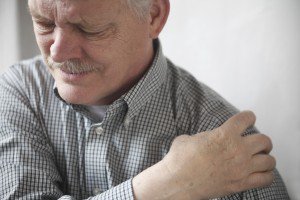 If you're a Scottsdale resident who experiences mild to severe, persistent shoulder pain, odds are you've tried chiropractic adjustments, physical therapy, cortisone injections or a combination of the three without experiencing much relief, which is why you've contacted LaserTech Pain and Back Relief Center – your local shoulder pain management team. At LaserTech, we've developed a highly effective protocol utilizing our multi-laser technology system designed to treat these painful, difficult-to-treat shoulder conditions, even when other treatments and technologies have failed you up to this point.
"I had right shoulder pain for years. After about 6 treatments at LaserTech, my pain level was reduces and the last treatments pretty much controlled the pain. I was very impressed with the quality of care."
– Donald P.
No Drugs, No Injections, No Surgery
About Shoulder Pain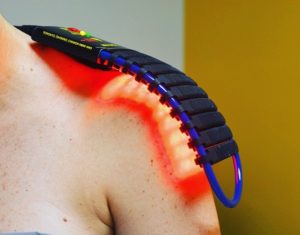 Shoulder pain is characterized by any type of pain that is felt in or around the shoulder, and may originate in the joint or surrounding rotator cuff tendons, muscles, ligaments, etc. Shoulder pain can be caused by overuse or injury, and certain diseases, such as heart or gallbladder disease, can also result in shoulder pain. Shoulder pain often begins in the form of tendonitis, progressing on to bursitis and joint capsulitis or frozen shoulder. If you have completely ruptured a tendon in your shoulder, you will most likely need surgery.
Most patients report worsened symptoms with activities such as exercise and physical therapy, and unfortunately, the longer your pain persists, the faster your condition advances to more severe levels of shoulder pain, which ultimately limits your range of motion and ability to partake in such activities even more. Fortunately for you and others with back, shoulder, and neck pain in Phoenix, AZ, LaserTech is here to help.
We Are Successful at Helping the Majority of Our Patients Become Free of Shoulder Pain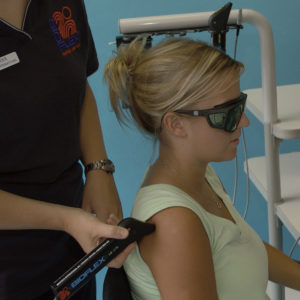 LaserTech's multi-level lasers are designed to increase the circulation in your shoulder and put you on a fast track toward recovery. As soon as your tissues show adequate response levels to the treatment, we will slowly introduce gentle exercise routines that are both comfortable and productive for your shoulder.
We understand that the inability to perform the simplest of tasks – such as reaching for an object in a tall cabinet or washing your hair – is what takes the greatest toll on your quality of life, and we want you to know we'll work diligently to devise a treatment plan tailored to your unique needs, so you can get back to living life normally with a healthy, functional shoulder. We've helped hundreds of patients find relief from chronic shoulder pain when all other treatment options have let them down.
Let LaserTech Help You Get Started on Your Path to Relief
Call us today at (602) 633-1063 to schedule your free consultation!