About LaserTech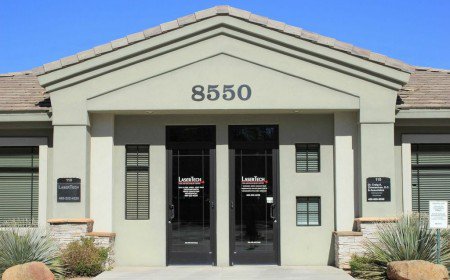 At LaserTech, a sizeable percentage of our patients come to us after trying and failing to experience relief with other popular treatment options such as surgery, injections, prescription medications, etc. If you are one of these patients who has spent countless dollars on treatments without finding the relief you deserve, we're proud to say we can offer you a safe, highly effective alternative that does not involve any surgery, drugs, steroid injections, sutures or lengthy downtime.
The compassionate and highly qualified doctors at LaserTech have been proudly treating patients throughout the Scottsdale and Phoenix areas with high-tech lasers and other non-invasive technologies since 2006. We've worked hard to develop a proprietary set of protocols that utilize safe technologies to effectively reduce your pain – whether it be back pain, neck pain, sciatica pain, neuropathy pain, joint pain, spinal stenosis or any other kind of pain that prevents you from living your day-to-day life to the fullest.
We Treat the Root of the Problem, Not Just Surface-Level Symptoms
One of the primary differences between LaserTech and many other area healing centers is the fact that we use our wealth of knowledge and experience to target the root cause of your pain rather than just treating the symptoms. This means you can feel confident and at ease knowing we'll never recommend any lower back pain treatments or any other unnecessary pain relief therapy across the Valley that merely masks your pain, and we will work diligently to determine what the root cause of your pain is, that way we can attack it and stop your pain once and for all, saving you time, money and discomfort.
Whether you've already tried other treatments that failed to effectively treat your pain or you haven't sought help because you didn't want to use invasive surgeries, steroid injections or addictive pain medications, LaserTech has the ideal alternative treatment option you've been seeking.
Start Your Road to Relief with Non-Invasive, Effective Pain Treatments
Call us at (602) 900-9391 to schedule your free consultation today!
Our Scottsdale Pain Treatment Office