Back pain caused by herniated discs, sciatica, or spinal stenosis can cause significant pain and discomfort. It's not uncommon for this type of back pain to become completely debilitating when left untreated for too long. Perhaps the most frustrating part is that resting can sometimes worsen the symptoms caused by these afflictions. Sit or even lay in the wrong position for too long and you'll be in more pain than when you started. According to the Cleveland Clinic, up to 2% of people suffer from a herniated disc every year and a whopping 40% will suffer from some sort of sciatica pain.
The CDC is constantly updating its Clinical Practice Guidelines for Prescribing Opioids for Pain. It seems like we've been hearing stories for decades at this point about the risks of prescription painkillers. While these medications can offer massive benefits to those in need, in most circumstances, the risks outweigh the rewards. Likewise, you'd be hard-pressed to find someone who doesn't at least have anecdotal, if not empirical, evidence of spinal surgery that failed to provide resolution to their chronic back pain.
Spinal Decompression Therapy is a Non-Invasive, Drug-Free Treatment Option
Thankfully, there are other much less invasive and drug-free options. Spinal decompression is a specifically applied form of traction that is a highly effective pain-relieving technology in treating spinal disc conditions, like herniated discs, sciatica, and spinal stenosis. In fact, in a 2015 study performed by the National Library of Medicine, 86% of patients reported immediate pain reduction and increased mobility after spinal decompression treatment.
How Does Spinal Decompression Therapy Work?
Here at LaserTech Pain and Back Relief Center, we're proud to offer our Super Traction Decompression System (TDS) using the DRX 9000 machine. This FDA-cleared system came on the scene around 2006 when considerable demand for this drug-free technology began making a splash in both the medical and science communities. Patients expressed their wish to avoid surgery and addictive pain medications. But the back pain wasn't going away. That's when the Traction Decompression System was designed to help reduce the amount of pressure being placed on the spine.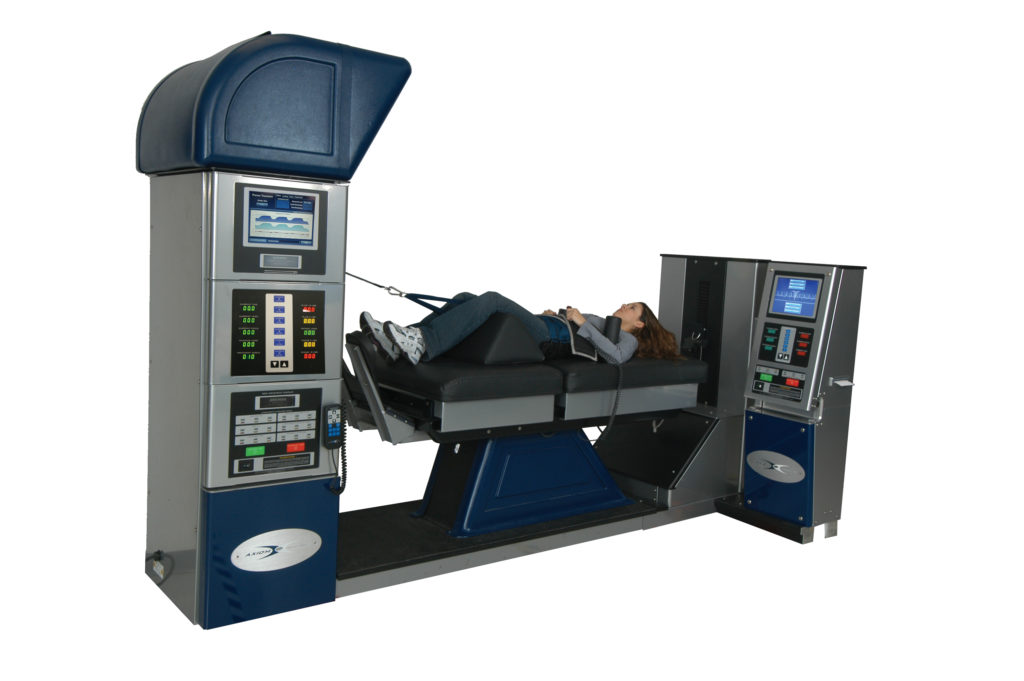 It works by opening up space in the spine for nerves to function properly. Before beginning spinal decompression therapy, you'll sit and talk with our doctor and run through a full exam to determine the root cause of your back pain. This ensures that we're able to calibrate the machine properly, for optimal results. Once you're comfortably settled into the TDS, we're able to apply precise adjustments to the angle of the pull, so that the decompression on those nerves is directed in specific target areas.

How Long Does Spinal Traction Take?
To be the most effective in relieving your chronic back pain conditions, most of our patients typically spend about 20-30 minutes per treatment in the Super Traction Decompression System. You may experience relief after just a few treatments. However, this is a little like the antibiotics you get from your primary care physician. We recommend that you complete the full treatment plan your LaserTech doctor originally prescribed. Most people should see improvements within 6-12 treatments. We'll assess your progress as you move through your treatment plan. It is rare, but if you're not experiencing pain relief after 12 treatments, it may be best to consider surgery at that point.

What Else Do I Need to Know About Spinal Decompression Therapy?
Everyone is different. Although chronic back pain is something a lot of us have in common, the cause of that pain is unique for everyone. So, you'll always have an individualized treatment plan set up with our friendly and highly experienced doctor. Generally speaking, though it has been found that wearing a back brace for a couple of hours after each spinal traction can improve your outcome by promoting more lasting change.
Lastly, our doctor may recommend that you combine decompression therapy with one of our other back pain-relieving technologies. There are often significant additive effects when supplementing one treatment with another. Unlike pain medications, whose side effects often require another medication to counteract the first, our pain treatment practices complement one another and offer even more pain-relieving efforts.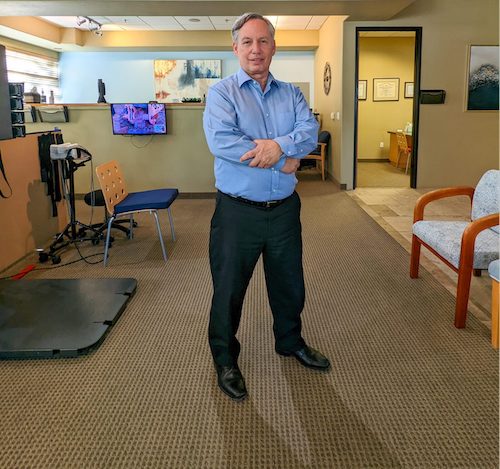 We Care About Your Health
Here at LaserTech, our philosophy on pain management is to attack the root source of your pain and offer drug-free, non-invasive treatments that don't just mask your symptoms. We have over 30 years of experience servicing Scottsdale and Phoenix residents and would love to help you. If you're suffering from a herniated disc, sciatica, or spinal stenosis and would like to finally find relief, reach out today. We're here to help.